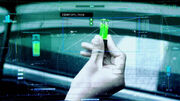 Benzupropene is a highly addictive new street drug, also known as 'The Bends'.
The narcotic is made from a rare algae that grows in the ocean at depths unsafe for most divers and is extremely addictive.[1] Overdoses of The Bends results in the victims face showing a mottled green pattern.
During an undercover operation, Rudy Lom concocted a batch that was 95% pure as stated by a VX Unit.
Description
Edit
A lime green liquid substance that is contained in small glass tubes.
Episode appearances
Edit
References
Edit
Ad blocker interference detected!
Wikia is a free-to-use site that makes money from advertising. We have a modified experience for viewers using ad blockers

Wikia is not accessible if you've made further modifications. Remove the custom ad blocker rule(s) and the page will load as expected.