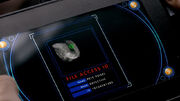 A Biolock is a lock that uses a person's unique biometric signature to open either doors or computer systems.
Detective Pete Vogel believed that Martinez had locked him out of his file access to the Police Database.[1]
James offered to contact maintenance in order to change the locks on Mrs Miller's office door to a biolock from her current key style lock, as she was continually leaving her keys in the lock. Mrs Miller declined the offer.[2]
Biolock containers holding a drug, vero, could only be opened by an individual's DNA. These were opened by pressing the tube against the lips of the takers. Julian Wollenberg had hidden another container in his room, behind an image of Lila Hoving. Inside the container was a memory stick that was only able to be activated on a Police Department Tablet by Julian's finger prints.[3]
Episode appearances
Edit
References
Edit
Ad blocker interference detected!
Wikia is a free-to-use site that makes money from advertising. We have a modified experience for viewers using ad blockers

Wikia is not accessible if you've made further modifications. Remove the custom ad blocker rule(s) and the page will load as expected.