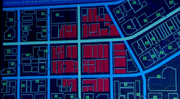 A Communication Jammer is a large device that allows all electronic communication signals to be blocked into or out of a building in a specified target area.
The Police Department jammed all signals within a three block radius of the Sanderson Building. Communication lines were still available within the building.
Description
Edit
The jammer is a large satellite dish, its antenna angles upward from the bottom. When active the antenna glows a purple hue.
Episode appearances
Edit
Ad blocker interference detected!
Wikia is a free-to-use site that makes money from advertising. We have a modified experience for viewers using ad blockers

Wikia is not accessible if you've made further modifications. Remove the custom ad blocker rule(s) and the page will load as expected.