Danica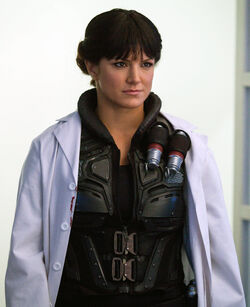 Family
Creator - Nigel Vaughn
Danica
is an advanced
XRN
series prototype android. The XRNs were created by
Dr. Nigel Vaughn
, through his company
Lumocorp Robotics Corporation
. She was the first and only one ever made.
Background
Edit
Danica was built to promote the XRN series, that were to replace the DRN series, to apparently fix the malfunctions of the DRN series' Synthetic Souls when used as police officers. She was given the name "Danica" by Dr. Vaughn.
It later became apparent after John Kennex blew up and destroyed Danica that she was merely meant to be a diversion so that Dr. Vaughn could escape over The Wall.
Murders committed by Danica
Edit
Mentioned as causing the death of 26 human police officers
Shot and killed eight seen civilians during reactivation
Five other civilian bodies seen after her second rampage
Mowed down and destroyed eleven other MX-43 police officers