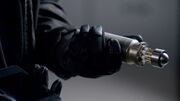 A Fission Igniter is a trigger mechanism for a large explosive device, normally at the megaton level.
Lucas Vincent requested one from the Police Department as part of his hostage demands in the Sanderson Corporation hostage situation. Captain Sandra Maldonado informed Lucas that it was military grade technology and above her authority to access it. Dr. Rudy Lom created a fake version of the fission igniter.
Episode appearances
Edit
Ad blocker interference detected!
Wikia is a free-to-use site that makes money from advertising. We have a modified experience for viewers using ad blockers

Wikia is not accessible if you've made further modifications. Remove the custom ad blocker rule(s) and the page will load as expected.