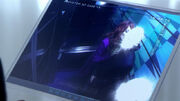 Flash Masks are an aerosol spray which when sprayed on a person's face causes a bright white light to be emitted when they are viewed via camera over the area which has been sprayed. A person's visage is still recognizable to a human eye.
Members of the Albanian Consortium used Flash Masks to render them unrecognizable by the Police Department during the murder of Sebastian Jones.
Episode appearances
Edit
Ad blocker interference detected!
Wikia is a free-to-use site that makes money from advertising. We have a modified experience for viewers using ad blockers

Wikia is not accessible if you've made further modifications. Remove the custom ad blocker rule(s) and the page will load as expected.