Gregor Stone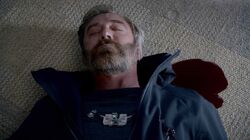 Gregor Stone
is a member of a gang, led by
Lucas Vincent
, who used a hostage situation at the
Sanderson Corporation
to hide the true crime of a
palladium
heist in a nearby building.
Background
Edit
Gregor Stone was using a face maker to disguise his true identity. The identity he was assuming was of a member of the Holy Reclamation Army, Michael Demarais.
During a firefight on the 15th Floor of the Sanderson Building, with Dorian, he was shot and killed, and the face maker was discovered by Detective John Kennex and Dorian.
Stone had a few priors for armed robbery on his record.
Detective John Kennex used the face maker from Stone to hide his own identity to assist Dorian in taking down the hostage takers on the 25th floor.
Ad blocker interference detected!
Wikia is a free-to-use site that makes money from advertising. We have a modified experience for viewers using ad blockers

Wikia is not accessible if you've made further modifications. Remove the custom ad blocker rule(s) and the page will load as expected.