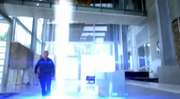 A Light Bomb is an explosive device that can be remotely triggered.
"Lucas Vincent" and his crew used two light bombs in during their hostage taking of the Sanderson Building. The first was placed into a drilled hole in the basement server room floor and detonated when the crew wanted to get the attention of the police. A large crater was left after the explosion and it caused structural damage to the rest of the building.
At the end of the hostage situation, another light bomb was set to go off to kill the hostages left in the room. Before the crew could exit, Dorian entered the room and started attacking the crew and ordering the hostages to flee. After a short shootout, with assistance from Detective John Kennex, Dorian was able to deactivate the light bomb.
Episode appearances
Edit
Ad blocker interference detected!
Wikia is a free-to-use site that makes money from advertising. We have a modified experience for viewers using ad blockers

Wikia is not accessible if you've made further modifications. Remove the custom ad blocker rule(s) and the page will load as expected.