Lila Hoving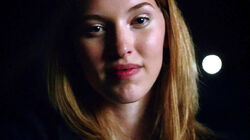 Lila Hoving
was a student at
Mendel Academy
.
Background
Edit
Lila was a 'natural' student at Mendel which primarily is attended by Chromes. She was friends with the Chromes Elinor Church, Scarlett Davis and Julian Wollenberg. Her mother could only afford her education at Mendel because Lila was a scholarship holder.
In 2047 Lila asked Julian if she could try the drug Vero which her friends had been taking. The drug expands the minds of Chromes. Lila was shown how limited she was as a natural after taking it.
Lila recorded a message for Julian later that evening. In it she explained that she understood why he had not wanted her to take the drug and that she understood her limitations. Lila ended the message when she walked into the sea.
Her death was deemed to be an accidental drowning. Mrs Hoving had disputed this as Lila was an excellent swimmer. Her suicide was only revealed during the investigation into the death's of Elinor and Scarlett.
Ad blocker interference detected!
Wikia is a free-to-use site that makes money from advertising. We have a modified experience for viewers using ad blockers

Wikia is not accessible if you've made further modifications. Remove the custom ad blocker rule(s) and the page will load as expected.