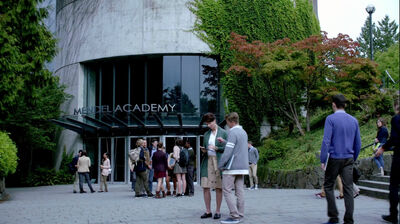 Mendel Academy
is an exclusive secondary private school. Most students who attend are
chromes
. The naturals, or naturally gifted students who attend, often do so on a scholarship.
[1]
Students who attend or did attend Mendel Academy include:
Scarlett Davis
Elinor Church
Marshall McCarty
Julian Wollenberg
Jessica Herron
Lila Hoving[2]
Students who may have attended Mendel Academy based on a list of known Vero users:
Anita Healey
David Abbott
Alan Lacey
Rachel Ellis
Jason Reeves
Julia Sanchez
Jesse Wilson
Marika Borsinski
Rebekah Lambert
Mendel Academy was most likely named after Gregor Mendel, a 19th Century monk who proved genetic inheritance by cross-breeding peas. Mendel is known as the 'father of modern genetics'.
References
Edit
Ad blocker interference detected!
Wikia is a free-to-use site that makes money from advertising. We have a modified experience for viewers using ad blockers

Wikia is not accessible if you've made further modifications. Remove the custom ad blocker rule(s) and the page will load as expected.