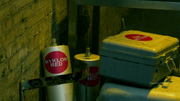 Myklon Red is a gas that has been used twice by inSyndicate. Once during case #00C-Q74100, to cause the death of Detective Pete Vogel and another Police officer, and also it was present during the Police Raid, case #34P - C91244. The gas has no effects on synthetics.
Episode appearances
Edit
Ad blocker interference detected!
Wikia is a free-to-use site that makes money from advertising. We have a modified experience for viewers using ad blockers

Wikia is not accessible if you've made further modifications. Remove the custom ad blocker rule(s) and the page will load as expected.