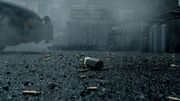 A Parabolic Pulse Charge was used by inSyndicate to halt the Omni truck.
Background
Edit
Prior to the use on the Omni truck, Case #00C-Q74100, the last time a Parabolic Pulse Charge was used was during the Raid, Case #34P-C91244, that severely injured Detective John Kennex and killed his partner and team members.
Episode appearances
Edit
Ad blocker interference detected!
Wikia is a free-to-use site that makes money from advertising. We have a modified experience for viewers using ad blockers

Wikia is not accessible if you've made further modifications. Remove the custom ad blocker rule(s) and the page will load as expected.