The City
is an unnamed west coast city in the United States in 2048. (As confirmed by creator,
J.H. Wyman
).
[1]
[2]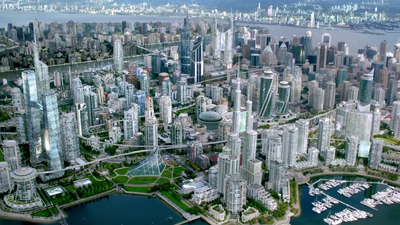 The City has a divided off section via the Wall. The Wall surrounds the Old Town. The Wall was erected during Detective John Kennex's childhood, sometime after 2017.
The reasoning for the building of the Wall and the separation is currently unknown.
Suburb/Divisions
Edit
The City is divided into Terms, Districts and suburbs.
Districts
Edit
Middle Ward District[8]
11th District (Downtown)[11]
14th District[12]
15th District[13]
18th District[14]
Suburbs/Divisions
Edit
Miscellaneous
Edit
The series is filmed in Vancouver, Canada and there are specific Vancouver landmarks that are still recognisable in the 2048 version of the City. Other city landmarks have also been used in establishing shots, including Seattle.
Image Gallery
Edit
References
Edit
Ad blocker interference detected!
Wikia is a free-to-use site that makes money from advertising. We have a modified experience for viewers using ad blockers

Wikia is not accessible if you've made further modifications. Remove the custom ad blocker rule(s) and the page will load as expected.