Victor Haseman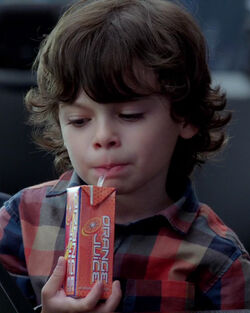 Victor Haseman
is the son of
Kristen Haseman
, one of the women kidnapped by the
Albanian Consortium
.
[1]
Background
Edit
Victor was in the car when his mother, Kristen was abducted. The kidnappers were unaware he was there. He was taken to the Police Precinct, once he had been discovered waiting in the car in the parking garage, where he was eventually questioned by Detective John Kennex. He was interested in a giraffe toy on the top of Kennex's computer screen. Kennex brought the toy down and activated it, as it was an animatronic toy. He allowed Victor to keep the toy. Victor was able to tell the police some details of the car, big and silver, that his mother was taken into. This allowed the Police to eventually track the vehicle. Victor was held in custody pending the arrival of his other parent. Victor and his mother were eventually reunited.[2]
Memorable Quotes
Edit
Image Gallery
Edit
References
Edit
Ad blocker interference detected!
Wikia is a free-to-use site that makes money from advertising. We have a modified experience for viewers using ad blockers

Wikia is not accessible if you've made further modifications. Remove the custom ad blocker rule(s) and the page will load as expected.